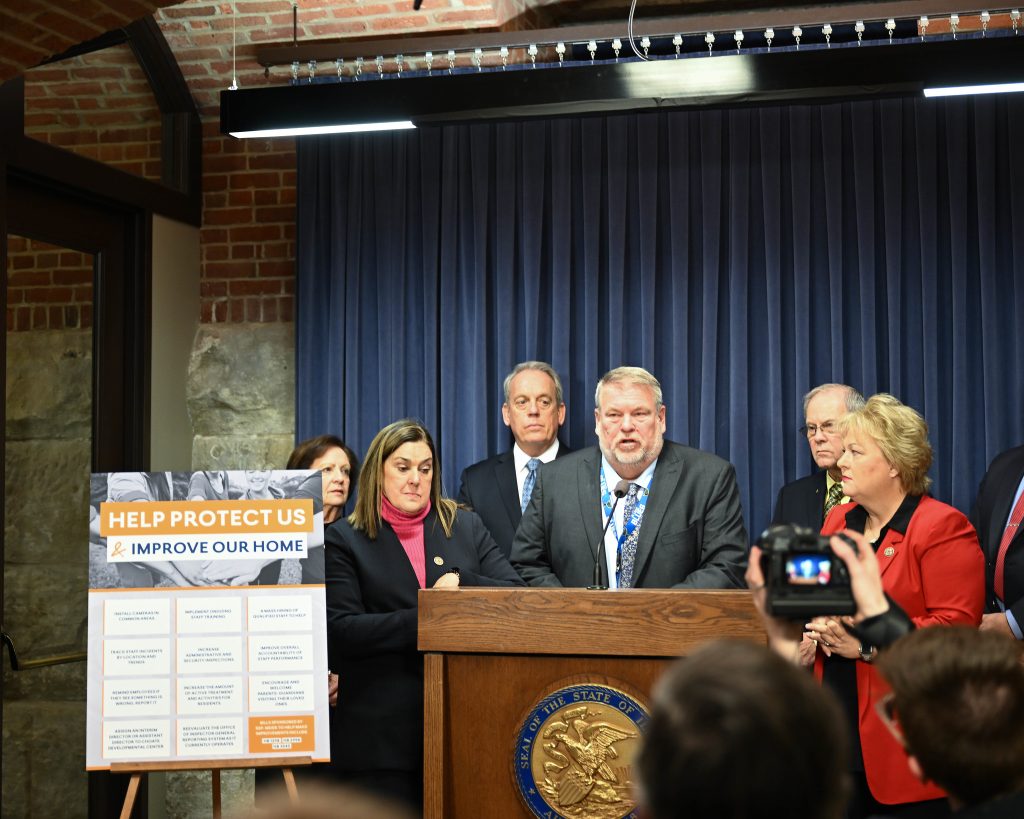 Illinois State Representative Charlie Meier (R-Okawville) on Thursday joined his Republican colleagues State Representative Paul Jacobs, Dave Severin, and State Senators Terri Bryant, Dale Fowler, and Jil Tracy to call for public hearings to discuss the serious concerns regarding disturbing reports of neglect and abuse of the residents at Choate Mental Health and Developmental Center located in southern Illinois. In addition to lawmakers' request for public hearings, Rep. Meier revealed his plan called 'Help Protect Us and Improve Our Home' which offered eleven changes needed to make improvements at Choate.
According to State Rep. Charlie Meier, "The 'Help Protect Us and Improve Our Home' proposal is a realistic plan to help make the improvements needed at Choate Mental Health and Developmental Center. A place residents call their home. I am more than willing to work with DHS and the elected officials to help foster a safe, loving, and healthy home where they can happily live fulfilling lives."
In a report published by ProPublica on February 10, 2023, lawmakers learned that multiple investigations by the Inspector General designated to oversee the Illinois Department of Human Services (DHS) revealed serious and unacceptable incidents of neglect and abuse and a culture of intimidation and retaliation against whistleblowers. Choate has been the subject of more than 1,500 complaints to DHS over the last decade.
On Friday, February 17, led by State Representative Charlie Meier and Paul Jacobs, every member of the House and Senate Republican Caucuses signed on to a letter sent to committee chairs of key Health and Human Services committees of the House and Senate that oversee DHS. In the letter, Republicans urged the convening of immediate public hearings to investigate the ongoing issues at Choate.In the letter, lawmakers said, "It is vital that we address these issues immediately so that this critical facility can continue to serve the 270 residents who depend on it. This is their home. We cannot displace these vulnerable individuals because for many of them, this is their last resort. The state of Illinois has a duty to them. They deserve better, their families deserve better, and the staff that serves them deserve better."
Rep. Charlie Meier's 'Help Protect Us and Improve Our Home' plan for Choate Mental Health and Developmental Center includes HB 1298, HB 2998, and HB 3545 among other suggested improvements to be made by DHS:
Install cameras in common areas
Implement ongoing staff training
A mass hiring of qualified staff to help
Track staff incidents by location and trends
Increase administrative and security inspections
Improve overall accountability of staff performance
Remind employees if they see something is wrong, report it
Increase the amount of active treatment and activities for residents
Encourage and welcome parents/guardians visiting their loved ones
Assign an interim director or assistant director to Choate Developmental Center
Reevaluate the Office of Inspector General reporting system as it currently operates
For more information on State Representative Charlie Meier's plan to improve Choate Mental Health and Developmental Center, please visit CharlieMeier.net or contact Rep. Meier's district office at 618-651-0405.