OKAWVILLE – State Representative Charlie Meier (R-Okawville) forwarded the following letter to United States Attorney General Bill Barr on Friday regarding Speaker of the House Michael Madigan's $20 million in campaign funds.
July 22, 2020
United States Attorney General William P. Barr
U.S. Department of Justice
950 Pennsylvania Avenue, NW
Washington, DC 20530-0001
Dear Attorney General Barr,
On Friday, July 17, 2020, the United States Attorney for the Northern District of Illinois announced that Commonwealth Edison Company and Exelon Company had agreed to pay a $200 million fine as part of a deferred prosecution agreement that implicates Illinois House Speaker Michael J. Madigan in criminal behavior.
The information I have reviews makes it seem quite likely that Speaker Madigan will be indicted at some point. As a taxpayer-paid elected official, I am duty-bound to protect the Constitution of the United States and the State of Illinois. I have two specific requests concerning Speaker Madigan's potential use of campaign funds for his ongoing and upcoming legal fees. Illinois House Speaker Michael Madigan is the current chair of four different political campaign funds totaling more than $20 million.
One specific request I have is while your investigation into the pandemic of public corruption that plagues Illinois continues, please take whatever action is necessary to freeze all campaign funds under Speaker Michael Madigan's direction. The use of these funds for his legal defense would be very improper. Speaker Madigan, better known as Public Official A is referenced as a corrupt centerpiece in a Federal deferred prosecution agreement. In that document, Com Ed admits to bribing Speaker Madigan into passing favorable legislation by giving high-paid, no-show jobs and contracts to Speaker Madigan's politically connected allies.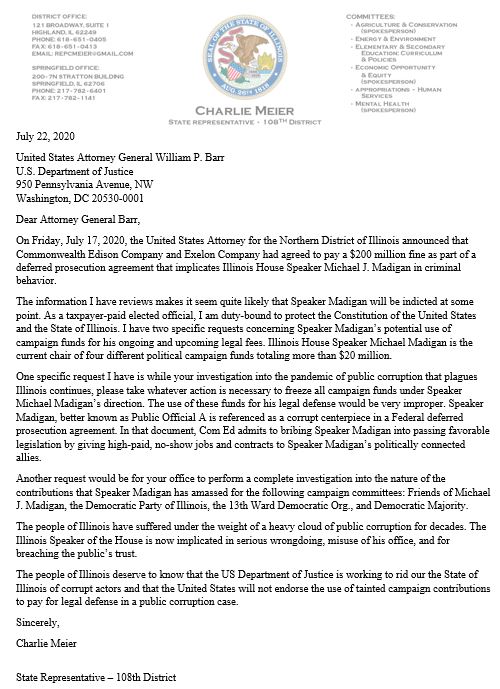 Another request would be for your office to perform a complete investigation into the nature of the contributions that Speaker Madigan has amassed for the following campaign committees: Friends of Michael J. Madigan, the Democratic Party of Illinois, the 13th Ward Democratic Org., and Democratic Majority.
The people of Illinois have suffered under the weight of a heavy cloud of public corruption for decades. The Illinois Speaker of the House is now implicated in serious wrongdoing, misuse of his office, and for breaching the public's trust.
The people of Illinois deserve to know that the US Department of Justice is working to rid our the State of Illinois of corrupt actors and that the United States will not endorse the use of tainted campaign contributions to pay for legal defense in a public corruption case.
Sincerely,
Charlie Meier
State Representative – 108th District
###