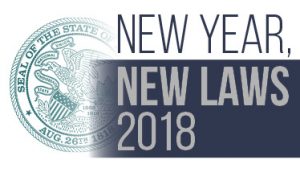 With the New Year upon us, State Representative Charlie Meier (R-Okawville) wants to make the public aware of several new laws scheduled to take effect January 1, 2018. 214 new laws will take effect this New Year.
Of the 200 plus new laws scheduled to take effect, Rep. Meier highlighted several new laws which may be of interest to the region. New laws include but are not limited to; enhancing and protecting Illinois' military bases, changing the organ donor registration to age 16, banning part-time elected officials from receiving a pension, requiring MRIs to be included with Mammograms, a police training program in Madison and St. Clair Counties, helping our military veterans, and increasing the loan amount for the purchase of fire trucks.
Enhancing and protecting Illinois' military bases
To help prevent future closings of military bases and other military infrastructure located within Illinois. Public Act 100-144 creates the Military Economic Development Committee (currently, the Interagency Military Base Support and Economic Development Committee) as an entity within the Office of the Lieutenant Governor (currently, the Department of Commerce and Economic Opportunity.) It also makes changes to the composition and rules of the Committee including increasing the membership from 8 to 10, and ensuring up to four members have a military background in Illinois.
"The more stakeholders we have advocating on behalf of Illinois' military bases is certainly helpful," said Rep. Meier. "According to data provided to my office, the military and the defense industry directly and indirectly contribute nearly 150,000 jobs and $13.3 billion in economic activity across Illinois. Scott Air Force Base is a major contributor to our state and local economy, most importantly SAFB plays a major role in our national security. This new law will help enhance and protect our military bases."
Organ donor registration to age 16
Public Act 100-41 requires the Secretary of State to begin to offer each applicant for a driver's license or identification card who is 16 years of age or older (rather than 18 years of age or older) the opportunity to have his or her name included in the First Person Consent organ and tissue donor registry. Allows the parent or guardian of the donor to amend or revoke the anatomical gift of the donor's body.
Ban on part-time elected or appointed officials from IMRF
The new law (Public Act 100-274) prohibits part-time officeholders (elected or appointed) from participating in or receiving benefits from the Illinois Municipal Retirement Fund (IMRF). The officeholder's position is deemed to be part-time if it normally requires the performance of duty during less than 1,000 hours a year for the governing body of the participating unit of local government.
Mammogram coverage to include MRIs
Public Act 100-395 amends sections concerning coverage for mammograms, the Illinois Insurance Code, the Health Maintenance Organization Act and the Illinois Public Aid Code to require that MRIs of an entire breast or breasts shall be covered if a mammogram demonstrates heterogeneous or dense breast tissue, when medically necessary as determined by a physician licensed to practice medicine in all its branches.
Police job training program
The Police Training Academy Job Training program (Public Act 100-331) allows any school district to establish a partnership with a local police department, county sheriff, or police training academy to establish a jobs training program for high school students. The training program is open to all students, regardless of prior academic history. The program is limited to counties with 175,000 or more inhabitants (Cook, DuPage, Lake, Will, Kane, McHenry, Winnebago, Madison, St. Clair, Champaign, Sangamon, and Peoria counties). The law also creates a scholarship fund to provide support for the police training academy job training and scholarship programs.
Strengthening protections for military personnel who relocate during their active duty
This new law (Public Act 100-264) fills in the gaps in the existing Illinois Service Member Civil Relief Act by providing that any service member, at any time after receiving military orders to relocate for a period of service of at least 90 days, may terminate or suspend contracts for Internet services, television and cable services, athletic club or gym memberships or satellite radio services. The new law also provides that a returning member of the military may reinstate the original provisions of contracts upon the completion of their service.
Helping Paws for Veterans Act
Public Act 100-384 will now ensure military veterans suffering from post-traumatic stress disorder (PTSD) or depression will now be included among those eligible to receive service dogs from the Helping Paws Service Dog Program. The act now insures that veterans with PTSD or depression are included among eligible disabilities.
Loans for fire trucks
Concerning the ambulance revolving loan program, Public Act 100-152 provides that a loan for the purchase of an ambulance may not exceed $200,000 (instead of $100,000). This increase was enacted to help local emergency departments purchase the most modern and up to date ambulances.
Rep. Meier added, "The price of a new fire truck isn't getting any cheaper these days. This new law will help ease the burden for local governments when making improvements to our public safety."
To view the full list of all new laws scheduled to take effect January 1, 2018, click here.