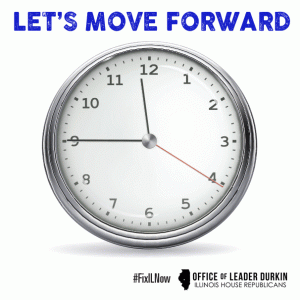 With 21 days left until the Illinois General Assembly is scheduled to adjourn on May 31st. State Representative Charlie Meier (R-Okawville) recently co-sponsored a legislative package to encourage lawmakers to adopt a revenue estimate for Fiscal Year 2018. According to Rep. Charlie Meier, "adopting a revenue estimate is an important step in the budget making process."
Rep. Charlie Meier co-sponsored House Joint Resolutions 49, 50 and 51, to provide realistic revenue estimates for the upcoming fiscal year 2018 set to begin July 1, 2017. HJR 49 uses the non-partisan Commission on Government Forecasting and Accountability (COGFA) FY2018 revenue estimate of $31.147 billion, HJR 50 uses the FY2018 estimate published by the Governor's Office of Management and Budget (GOMB) of $31.476 billion, and HJR 51 utilizes an average of the COGFA and GOMB revenue estimates, or $31.312 billion, as the starting point for the creation of a balanced state budget.
According to Section 2, Article VIII of the Illinois Constitution, "Appropriations for a fiscal year shall not exceed funds estimated by the General Assembly to be available during that year. Pursuant to this constitutional mandate, it is the duty of the Illinois legislature to adopt a revenue estimate for each and every fiscal year in order to have a basis from which to design a budget that is balanced." Which means the legislature can't spend more than what the State will have in the bank account.
Rep. Meier added, "the legislature has yet to agree on a revenue estimate. A revenue estimate will help the legislature craft a balanced budget as required by the Illinois Constitution which is why I agreed to co-sponsor this legislative package. If the legislature adopts a revenue estimate, than it will certainly help steer lawmakers in the right direction towards approving a balanced budget. With less than 21 days until adjournment, the clock is ticking. It's time to get to work on passing a revenue estimate so we can adopt a balance budget now."