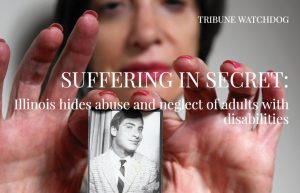 The Illinois House of Representatives recently adopted House Resolution 327 to congratulate the Chicago Tribune for receiving the 2016 Worth Bingham Prize for Investigative Journalism for its three-part series "Suffering in Secret." The investigative stories identified 1,311 cases of documented harm occurring in state funded group homes for the developmentally disabled since July 2011 and determined at least 42 deaths linked to abuse or neglect in group homes or their day programs over the last seven years.
According to State Representative Charlie Meier, "The three-part series published by the Chicago Tribune which exposed the abuse and neglect that unfortunately occurred in group homes throughout the state was in part due to the Murray Parents Association bringing their concerns to light. The story had to be told in order to further prevent these incidents of abuse and neglect from ever happening again."
The Bingham Prize honors investigative reporting of stories of national significance where the public interest is being ill-served. These stories may involve state, local or national government, lobbyists or the press itself, wherever an "atmosphere of easy tolerance" exists, as journalist Worth Bingham himself once described public misconduct in his reporting on the nation's capital.
Rep. Meier added, "This Worth Bingham Prize for Investigative Journalism will help ensure the story of abuse and neglect that occurred is not forgotten as it will be printed in newspapers throughout the country. I am hopeful this story will cause other states to reevaluate how they care for the developmentally disabled by making sure what happened in our state doesn't occur in their state."