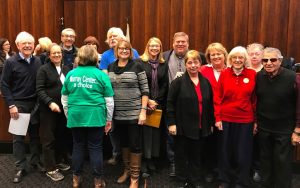 Illinois State Representative Charlie Meier (R-Okawville) served on the joint House and Senate Human Services Committee hearing held in Chicago on December 13. The committee discussed the abuse and neglect which took place at state funded group homes throughout Illinois and heard testimony from Illinois Department of Human Services (IDHS) Director James Dimas regarding what went wrong, the improvements the department has made, and how the state agency plans to make improvements moving forward.
"I expressed my concerns for several years regarding the abuse and neglect with the prior administration and my concerns were left unanswered," said Rep. Meier. "It's refreshing the Rauner administration has and continues to listen. I am pleased to know the new administration has made and is currently taking the necessary steps to improve the safety and well-being of Illinois' most vulnerable."
The legislative hearing was prompted as a result of the Chicago Tribune publishing a series of articles which identified 1,311 cases of documented harm occurring in state funded group homes for the developmentally disabled since July 2011 and determined at least 42 deaths linked to abuse or neglect in group homes or their day programs over the last seven years. The Tribune articles came to light thanks to the Murray Parents Association working with the newspaper to expose the abuse and neglect which took place in group homes throughout the state.

At the legislative hearing, the Illinois Department of Human Services stated they have worked to address decades-old problems in order to better protect Illinois' most vulnerable by implementing many reforms as early as 2015. Some of the most significant reforms include more than doubling the number of investigators assigned to allegations of abuse and neglect in group homes and eliminating a system in which providers policed themselves. In addition, the IDHS is working to improve transparency of all services for persons with developmental disabilities administered through the state. The agency is also considering implementing a system of grading group homes so that consumers can make a more informed decision when choosing a new home for their loved one.
Rep. Meier added, "I like the idea of creating a grading system for group homes in order to help families and friends select a group home that is most suitable for their loved one. I hope this is the first of more hearings and open discussions on how Illinois can continue to improve the quality of care for the developmentally disabled."