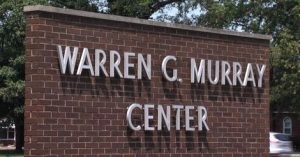 Illinois State Representative Charlie Meier (R-Okawville) wants the public to know that the Warren G. Murray Developmental Center located in Centralia, Illinois is "alive and well". Murray Center is the only State Operated Developmental Center (SODC) serving central Illinois and parts of southern Illinois. According to State Representative Charlie Meier, "The good news is Murray Center is accepting new residents on an individual basis and has recently welcomed a new resident thanks to a referral by State Representative Terri Bryant (R-Murphysboro)."
Earlier this year, Peggy Strong, a retired teacher from Murphysboro visited with State Representative Terri Bryant to discuss her daughter's special healthcare needs. Peggy's daughter suffers from several acute chronical medical diagnoses which collide together according to Peggy, and she was concerned her daughter was not receiving the type of care a CILA (Community Integrated Living Arrangement) could provide, which is why Peggy began looking for a new home that could provide the level of care her daughter needs and deserved.
Peggy had a reasonable request for her daughter, she asked Representative Bryant "to help her find a home for that would be safe and comfortable for her daughter". Without hesitation, Representative Bryant suggested Peggy consider visiting Murray Center and she took that advice, fast forward to today and the rest is history. Peggy found a home that is safe and comfortable for her daughter; her new home is Murray Center.
According to Peggy Strong, "Thank God Murray Center did not close and thank God there is a place like this for my daughter. She is happy, the look on her face says it all. Murray Center has provided my daughter with more freedom. She has been smiling, laughing, and is able to walk when she wants – something most of us take for granted. You can't do this in a CILA."

"As a state representative, one my most enjoyable responsibilities is helping my constituents," said Rep. Bryant. "After meeting with Peggy and hearing her two biggest concerns for her daughter was finding a home that is safe and comfortable, I am glad she found a home for her daughter that will meet her needs and expectations."
Four and a half years ago, on February 22, 2012, then, Illinois Governor Pat Quinn announced his intention to close the Warren G. Murray Developmental Center located in Centralia, slating its closure for the spring of 2013. However, thankfully due to efforts made by the Murray Parents Association, Rep. John Cavaletto, Senator John O. Jones, State Representative Charlie Meier and hundreds of friends and family of Murray Center never gave up the fight to keep the only state developmental center located in central and southern Illinois open.
"Before my daughter came to Murray, she was known to be an insomniac," said Peggy Strong. "After receiving treatment from the staff at Murray, my daughter has slept through every night and that speaks volumes. The staff is off the charts, they are very professional, very attentive, spot on. The look on her face now, she is relaxed, she has blossomed."
Peggy went on to say, "Thank God for Representatives Charlie Meier and Terri Bryant, they are the kind of public servants to stand up and be a voice for my daughter, they are the voices of the residents and Murray."
Murray Developmental Center located in Centralia, Illinois opened in 1964 and is home to 208 residents. It is the only State Operated Developmental Center (SODC) serving central Illinois and parts of southern Illinois, making Murray Center feasible for the State and its residents that call Murray Center their home.
Murray Center's campus is on 120 rolling acres. The living areas are separated into seven cottages. Each cottage has units with a day area, dining room, dietary, nurses' station and laundry. The cottages are interconnected with walking paths for access to the Community building. The Community building provides on-site activities during the day and evenings. The Community building has a Bistro where the individuals are trained in a setting for transition into an occupation in the community. Murray residents also attend an off campus workshop. The campus has a main dietary, mechanical building, boiler house and clothing area.
The Center provides training designed to assist individuals to function in a least restrictive environment independently. The end goal is to provide a setting that allows the person to live in the most integrated setting to meet their specific needs.
For more information about Murray Center, you may contact 618-532-1811, visit www.dhs.state.il.us or visit www.murrayparentsassociation.com.