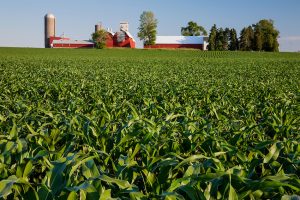 State Representative Charlie Meier (R-Okawville) participated in Agriculture Day ceremonies today at the Illinois State Fairgrounds. The highlights of Agriculture Day was Governor Bruce Rauner signing into law Rep. Meier's legislation to recognize Bicentennial Farms and the Governor's announcement of the newly formed not-for-profit, Illinois Fairgrounds Foundation, tasked with raising private funds to make capital improvements at the Springfield and Du Quoin fairgrounds.
Leaders in the agricultural community established the Illinois Fairgrounds Foundation to promote, support, assist, and sustain the Springfield and Du Quoin State Fairgrounds. The foundation will be led by a volunteer board representing a diverse cross section of the agriculture industry. Board members will engage with private sector business organizations and individuals to develop strategies to raise private funding, coordinate with the Department of Agriculture to plan projects and determine the Fairgrounds' needs, and serve as ambassadors for the revitalization and improvement of the Fairgrounds and their agricultural heritage.
"Being a farmer and lawmaker, I understand the positive impact Illinois' agriculture industry has not only in the State, but throughout the world," said Rep. Meier. "I strongly support the creation of the privately funded Illinois Fairgrounds Foundation. The State Fairgrounds help promote and preserve Illinois' rich agricultural history. I am thankful to the volunteers who have chosen to make a commitment to raise private funds to improve and preserve both the Springfield and Du Quoin State Fairgrounds."

The Illinois State Fairgrounds in Springfield includes more than 170 buildings spanning 360 acres of land, with buildings as old as 124 years. The Du Quoin State Fairgrounds includes more than 20 buildings spread across more than 1,200 acres of land, with buildings as old as 93 years. Many of the buildings on both fairgrounds are in dire need of restoration, including paint, plumbing, roofing, and structural repairs. Combined, the fairgrounds carry $180 million in deferred maintenance costs.
In addition, Governor Rauner signed State Representative Charlie Meier's House Bill 5790 into law to allow the Department of Agriculture to recognize farms and other agribusiness that have been in the same family for 200 years or more. House Bill 5790 now Public Act 99-0824 expands the current Centennial and Sesquicentennial Farm Program to add Bicentennial Farms to list of those that can receive recognition. The new law will permit the Illinois Department of Agriculture to sell at a cost, to qualified applicants, signs designating the farm a "Bicentennial Farm".
Rep. Meier added, "Recognizing family farms which have been operating for over 200 years is something we should not overlook. They deserve to be honored by the State of Illinois for their commitment to Illinois' economy and agricultural community."