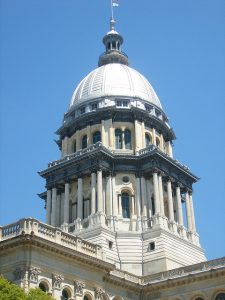 On Thursday June 30th, the Illinois General Assembly and Governor Bruce Rauner approved a bipartisan stopgap budget less than 24 hours before the new fiscal year was set to begin on July 1st. The new law (Public Act 99-0524) totals $50.6 billion for fiscal year 2017, including $8.6 billion in General Revenue Funds, $33.6 billion in other state funds and $8.4 billion in federal funds.
According to State Representative Charlie Meier (R-Okawville), "The bipartisan compromise we approved ensures K-12 schools open this fall and our public universities such as SIUE and our community colleges remain open. Just as important, the stopgap measure ensures critical human services receive the funding they need and more than 800 transportation improvements will remain active throughout the next 12 months."
The funding plan signed into law Thursday does not rely on a tax hike and fully funds elementary and secondary education for the first time in seven years. The compromise stopgap funds road construction, federal programs, and other non-General Revenue Fund (GRF) programs for both fiscal years 2016 and 2017. It also provides FY17 funding to support 6 months of critical operations for higher education, state-operated facilities including prisons and veterans' homes, fuel for the State Police to patrol our roads, and other core operations and programs for public safety, health, and welfare. Funds are available under current law for all components of this bridge plan.
Rep. Meier added, "The bipartisan compromise we approved ensures K-12 schools in my district receive $4.8 million in additional funding. However, if SB 231 became law, schools in my district would have lost $13.9 million. The fact that both parties placed their egos and political differences aside for the betterment of Illinois taxpayers is good news. However, this is not a full year budget for everyone, which means we have more work to do throughout the year. At least for now, we reached an agreement to fund as many essential and critical services that we could agree upon."