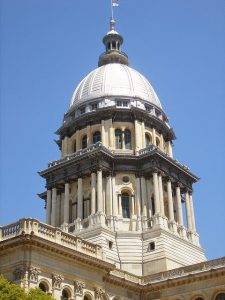 The Illinois House of Representatives completed its first week back in session for the week of April 4th. Throughout the week lawmakers scurried to get their legislation approved before the April 7th deadline for potential laws to be voted out of committee.
State Representative Charlie Meier (R-Okawville) was successful at getting three legislative proposals he sponsored approved, however Rep. Meier was disappointed with not getting a vote on an additional three pieces of legislation introduced for 2016.
"With only one week to get the legislation I sponsored approved, I didn't stop and I won't stop trying to pass the bills which are most important to the constituents I represent," said Rep. Meier. "The truth is, one Democrat lawmaker from Chicago makes the ultimate decision on which legislative proposals get a chance to be voted on in the Illinois House. I wanted an up or down vote on three bills which are very important to my constituents but unfortunately we were not given the opportunity."

The three legislative proposals Rep. Meier wants to receive an up or down vote on are as follows: House Bills 4444, 4673, and 5515.
• House Bill 4444 is intended to provide motorists with a stronger incentive to purchase and maintain auto insurance. The legislation provides that an uninsured motorist that causes bodily harm or death to another person would be guilty of a Class 4 felony (currently a Class A Misdemeanor), with a minimum fine of $10,000 and a driver's license revocation for one year. This legislation was introduced at the request of a constituent in Mascoutah that was stuck and severally injured by an uninsured motorist. In addition to his injures, including losing his left leg, the constituent was responsible for all of the medical costs related to the accident caused by the uninsured motorist.
• House Bill 4673 was introduced in response to the decision made by three St. Clair County judges Baricevic, Haida and LeChien to avoid retention and the requirement to receive 60% voter approval to remain on the bench. Instead, the three judges chose to run for election which only requires approval from over 50% of the voters in the November 2016 election. Meier's legislation states that no judge or former judge may submit his or her candidacy for a vacancy in a judicial office by any method other than seeking retention in his or her office, unless that judge or former judge is seeking judicial office in a higher or lower court or he or she has not served as an elected or appointed judge for at least 2 years.
• House Bill 5515 was introduced at the request of Illinois Department of Corrections officers in Rep. Meier's district after they informed him that inmates and their friends are using the Freedom of Information Act to obtain the correctional facility's files on other inmates such as information about tattoos, former addresses and names of family members in order to intimidate an inmate. The correctional officers believe that obtaining their records or record of inmates is a safety issue.
The three legislative proposals sponsored by Rep. Meier receiving approval by the Illinois House the week of April 4th were House Bills 5788, 5790, and 5796.
• House Bill 5788 adds catfish to the list of aquatic life that may be taken by pitchfork, underwater spear gun, bow and arrow or bow and arrow device, including a sling shot bow, spear, or gig.
• House Bill 5790 would permit the Illinois Department of Agriculture to sell at a cost, to qualified applicants, signs designating farms that have been owned for 200 years or more by lineal or collateral descendants of the same family as "Bicentennial Farms."
• House Bill 5796 provides that the limits on the number and size of fish a person may take in a day do not apply to a person fishing in waters wholly within his or her private property.
Rep. Meier added, "The legislature approves hundreds of bills each year and I am pleased to get a few passed this week. However, for the most part, the legislative proposals which matter most to the people we represent don't see the light of day. It's not just happening to my bills but the state budget for instance; we have gone 10 months without a state budget and we are still passing bills which make us feel good. I would feel a lot better if we could reach an agreement on a state budget which funds our public universities, community colleges, MAP grants for college students and funding for human services."