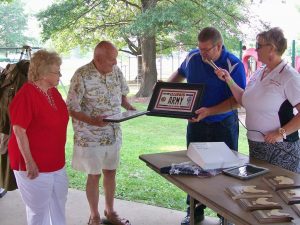 State Representative Charlie Meier (R-Okawville) and Irvington Mayor Gera Sims conducted a public ceremony to honor WWII POW and Korean War Veteran Dr. Gerhard Malcharek in Irvington Sunday.
From very early on Dr. Malcharek lived a life of adversity. At age 13 he was taken away from his family and forced to join the German army as a tank driver in the dying stages of WWII. In his time of service he became injured, and was later forced into a soviet POW Camp. For his forced service in the army, Dr. Malcharek served in the POW camp until 1947. When released, he and his family were forced to immigrate to Germany where he would not be able to receive the education necessary for him to fulfill his dream of becoming a dentist.
During his time of exile, he was befriended by an American Soldier who informed him of the educational opportunities America had to offer. A short time later, Dr. Malcharek immigrated to America. Thankful for the opportunities that had been given him, Dr. Malcharek joined the U.S. Army within 30 days of arriving on American Soil. He was quickly called to action to serve in Korea as a combat engineer. During his time in the service Dr. Malcharek served two tours, received the Purple Heart, and retired as a Colonel.
After his service, Dr. Malcharek continued on with hard work and dedication to fulfill his dream of becoming a dentist. As a Dentist, Dr. Malcharek was tasked with caring for nearly 700 Murray Center residents. He served in this position for 27 years.
The ceremony to honor Irvington resident retired Colonel Dr. Gerhard Malcharek took place on Sunday, July 5th, at 4:00 p.m., at Irvington Park.
"Dr. Malcharek's life is one that has inspired and continues to inspire today," said Rep. Meier. "The fact he was taken from his family and forced into a tank at age 13 to fight with the Germans and wound up retiring as a Colonel in the U.S. Army is simply incredible. His life of service, whether it be in the Military or as a Dentist, is one to be admired and respected."