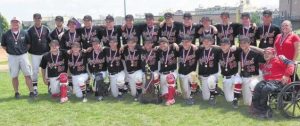 State Representative Charlie Meier (R-Okawville) passed House Resolution 611 honoring the Highland Bulldogs baseball team Tuesday for their winning the Class 3A State Championship. HR 611 recognizes the outstanding achievement by the Highland Bulldogs and congratulates them on their victory.
The Highland Bulldogs defeated Nazareth Academy 7-6 in a hard fought offensive battle. The championship game started with Nazareth Academy taking an early 2-0 lead. The two teams battled for seven innings until the Bulldogs finally took back the lead they lost in the 1st, scoring the game winning run in the bottom of the 7th to win 7-6. This exciting win was the perfect ending to a terrific season, with the team finishing 28-13 as their overall record.
"I am very proud of the Highland Bulldogs and their championship winning season," said Rep. Meier. "The Bulldogs ability to play as a team and their talent on the field is nothing short of outstanding. Their victory at the end of a hard-fought season was well earned, and will serve as a great lesson for the players as they strive for success in the future."
Included in House Resolution 611, Rep. Meier recognized each member of the Bulldogs and their coaching staff. The members of the Highland baseball team are Seth Luitjohan, Tyler Kimmle, Mike McGill, Pete Baumgartner, Austin Brown, Will Greenwald, Jim Smith, Jarrett Dubach, Griffin Welz, Grant Geppert, Tyler Pollard, Cody Bentlage, Sam Greene, Chris Dickman, Andrew Winning, Matt Augustin, Jordan Smith, Nick Schmollinger, Kyle Schmitt, Matt Beyer, Trent Carriger. The team's head coach, Joel Hawkins, has coached baseball at Highland Highland High School for 24 years. The team's assistant coaches are Sam Weber, Joel Hawkins, and Caleb Houchins.
Rep. Meier's resolution concluded with the following message to the Highland Bulldogs baseball team, "RESOLVED, BY THE HOUSE OF REPRESENTATIVES OF THE NINETY-NINTH GENERAL ASSEMBLY OF THE STATE OF ILLINOIS, that we congratulate the members of the Highland Bulldogs baseball team on the occasion of winning the Class 3A State Championship Title and wish them many more years of success to come."