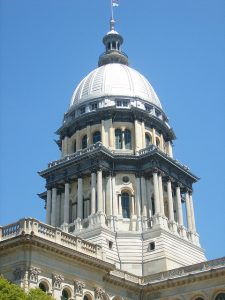 With nine days to go until a new state budget is scheduled to take effect July 1 there is one problem, the Democrats' in control of the Illinois House and Senate have no budget for Illinois Governor Bruce Rauner to sign.
Since June 17, members of both Democrat majorities in the House and Senate have held press conferences throughout Illinois in opposition to a budget proposed in February by Governor Rauner. Fast forward to today, the only budget approved this year is the FY 2016 budget approved by House and Senate Democrats consisting of twenty-one budget bills, of which only a hand full of budget bills have been sent to the Governor for consideration.
"The press conferences held throughout the state by my Democrat colleagues discussing proposed budget cuts is pure hogwash," said Rep. Charlie Meier. "My Democrat colleagues control the budget process in Springfield. They have the votes to decide who gets cut and how much they get cut. Instead, we should be talking about the root of Illinois' fiscal problems – overspending and record job loss. Employers and not-for-profits are paying the price of high workers' compensation rates and feeling the burden of high insurance costs because of a lack of lawsuit abuse reform. If we solve the issue of record job loss, Illinois can create more jobs which would result in more revenue for our state budget."
Illinois' estimated revenue for Fiscal Year 2016 is $32 billion. However, the budget proposal passed by House and Senate Democrats spends $36 billion, $4 billion more than Illinois' estimated revenue for Fiscal Year 2016.
"My Democrat colleagues seem to have forgotten they have enough votes to pass a budget which spends as much or little as they want," said Rep. Dwight Kay. "The budget they passed in May spends four billion more than what Illinois is estimated to have in the bank over the next year. I suggest my colleagues urge their Democrat leadership to come back to the negotiating table and reach an agreement on the state budget."
As of today, House and Senate Democrats have not sent their entire Fiscal Year 2016 budget to Governor Rauner for his consideration. The new fiscal year begins July 1, 2015 and runs through June 30, 2016.