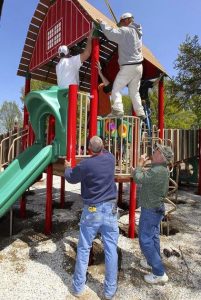 Photo courtesy of BND
On Sunday May 31st, the Illinois Senate approved a bill to make handicap-accessible park projects a priority. State Representative Charlie Meier (R-Okawville) sponsored the legislation.
The legislation was inspired by Hannah Berndsen's family, which began construction on 'Hannah's Playground' with friends and family earlier this year in Breese. Meier's legislation would help build playgrounds like 'Hannah's Playground' in other Illinois communities.
"It is astonishing how few parks in the State of Illinois are handicap-accessible," said Rep. Meier. "It is my hope that this legislation will help bring attention to this deficiency and allow more people to enjoy our wonderful parks."
House Bill 3457 directs the Illinois Department of Natural Resources (IDNR) to add handicap-accessible playground equipment such as ramped ground-level play features, accessible swings, wheelchair accessible tables, adjustable equipment, universally accessible swings, and transfer platforms to the criteria for giving park projects priority.
Rep. Meier continued, "It has always been one of my top priorities as State Representative to fight for people in need of assistance. I believe that individuals with a handicap and their families should be able to more easily enjoy our state's beautiful parks and the great outdoors."
HB 3457 passed unanimously in the House and the Senate and now moves on to the Governor for approval.
For more information about Rep. Meier's legislation or if you have an issue concerning state government, please contact Rep. Charlie Meier's office at 618-651-0405 or visit www.CharlieMeier.net.