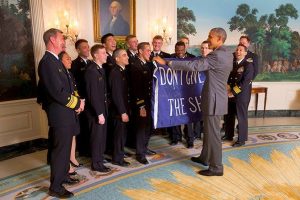 Official White House photo by Lawrence Jackson
Rep. Meier's constituent U.S. Naval Academy Midshipmen Luke Foppe, the son of Bill & Denise Foppe of Breese, IL was recognized by President Obama alongside his colleagues earlier this month.
Luke is also the nephew of Diane Rakers, from Rep. Meier's staff.
The official blog of the U.S. Naval Academy "the Trident" posted the following story about the Midshipmen's trip to the White House:
U.S. Naval Academy (USNA) Midshipmen traveled to the White House May 7 to be recognized by President Obama for winning the 15th annual Cyber Defense Exercise (CDX) in April.
Midshipmen met with President Obama in the Diplomatic Room to be congratulated on their success and later met members of the National Security Council to discuss matters relating to cyber security.
"The midshipmen were ecstatic and excited to have had the opportunity to be recognized for their accomplishment," said Capt. Paul J. Tortora, USNA Center for Cyber Security Studies Director. "The fact that the president is highlighting this for the first time in the 10 year competition's history is great for the program, the midshipmen, and the Naval Academy."
CDX is a cyber-security exercise in which students from service academies design and build computer networks and defend them against intrusions by the National Security Agency/Central Security Services (NSA/CSS).
This year, a core team of 20 midshipmen triumphed over teams from the U.S. Military Academy, U.S. Air Force Academy, U.S. Coast Guard Academy, U.S. Merchant Marine Academy, Air Force Institute of Technology and Royal Military College of Canada. This is the first time in 5 years that the Naval Academy has won the event.
"This was a fantastic opportunity to recognize these talented Midshipmen for winning our nation's top exercise in Cyber Defense," said VADM Ted Carter, USNA Superintendent, who was present at the White House for the meeting. "Our efforts in cyber education, training and competition continue to stand out and confirm the U.S. Naval Academy's role as a leader in Cyber Education.
For the full story click here.